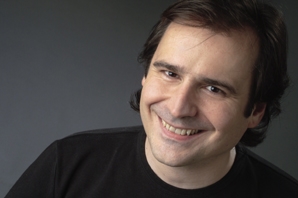 1964 born in Berlin, lives in Berlin.
1982 Abitur at Paulsen-Gymnasium in Berlin.
1983-90 Studying Electrical Engineering at TU Berlin.
1978-96 Guitarist in several bands with various publications, especially Mock Orange (86-96).
1989-1992 Freelancing technician at Sound&Drumland music store in Berlin. Repairs, studio service and own developments.
1993-96 Co-founder of "X-Tended" service center for musicians, main areas: synthesizers, samplers, modifications, Midi-Interfaces.
1997 Founding "JoMoX Elektronische Musikinstrumente GmbH". Since then CEO and developer of electronic musical instruments. A great part of his latest work is dedicated to complexity of non-linear sound networks.
2001 Jayemsonic Michaelis Hardwaredesign Sonic Projects starts.


Developed Instruments (Selection):

1996 XBase09, analog drum machine
1998 AirBase99, drum module
1997-2001 SunSyn, analog synthesizer
2000-2002 Resonator Neuronium, experimental synthesizer
2001 MBase01, bass drum module
2002 XBase SE TokTok, Dr. Walker
2003 JaZBase03, drum module
2005 XBASE 999, M-Resonator
2007 XBASE 888, T-Resonator
2008 Moon Wind
2009 MBase11, SunSyn 2.0, Sensors for installation Vertikal Skip
2010 M.Brane11, Ghost Wind

Music (Selection)

1991 Vinyl Mock Orange "Taste"
1993 CD Mock Orange "Grey to green"
1994 CD Mock Orange "Did you ever listen"
1995 CD Mock Orange "Don't bother me"
2001-2009 Diverse Tracks on Jayemsonic

Exhibitions/Performances

1999 Presentation of SunSyn in the C-Base Berlin with Video Livestreaming in the Internet.
2002 Performance Resonator Neuronium at Glaslager of the Berlinische Galerie with Peggy Syllop.
2003 Performance Resonator Neuronium (Superbooth, Musik Messe Frankfurt).
2005 Presentation of 2 networked R. N. serial units on Musik Messe Frankfurt.
2005 Sound installation "Circus Neuronimus" during Experience Art at Art-Center Berlin.
2006 Performance with Resonator Neuronium "Lange Nacht der Wissenschaft" TU Berlin
2007 Performance with Resonator Neuronium "M6 Club am Alex"
2009 Installation of Vertical Skip by Thilo Frank in Copenhagen